Read what you will, but read passionately! When I select my reading materials it is either by chance or recommendation. Sometimes I browse bookstore and library shelves, open to page one and attempt the traditional 'does-it-pull-me-in' strategy. Here's five books I love that kept me thinking .
My absolute favorite book last year was Angela Sloan by James Whorton, Jr. (Free Press, New York, 2011. Paperback. $14.00). Incredibly fun yet at times a poignant coming-of-age novel about a teenager who suddenly finds herself on her own when her retired CIA officer dad disappears at the onset of the Watergate scandal. A mad-cap adventure filled with quirky, memorable characters. All bookstores should carry James Whorton, Jr. If this text is ever adapted for film I hope they do it right.
A favorite quote: ""I worry about you stealing things, Betty," I said. "That's not how we do it here! Get caught, and it causes me all kinds of problems. Now you're stealing potato sticks. The whole can costs twenty-seven cents! You're an illegal alien. Just pay for the can!""
What to eat: biscuits with sausage gravy.
Another fiction title that kept me engaged and curious was Meg Wolitzer's The Uncoupling (
Riverhead Books, New York, 2011. Paperback. $15.00)
. A new drama teacher is hired at Eleanor Roosevelt High School and soon after rehearsals of the school play begin, relationships between couples throughout the community begin to change as women young and old begin to lose their sexual desire and want for intimacy. A great novel that looks at the value and meaning of love and sex.
A favorite quote: "They lived in a time in which it was tremendously difficult, as parents, to let children endure any pain. If you sensed their despair, you took it on as your own."
What to eat: carrots and hummus.
News Clips & Ego Trips: The Best of Next...Magazine, 1994-1998,
edited by G. Murray Thomas (Write Bloody Publishing, Long Beach, CA, 2011. $17.00) is a wonderfully energetic look at the Southern California poetry scene in the 1990's provided by Next...Magazine. This historic catalog provides numerous articles, commentary, and interviews with Patricia Smith, Jeffrey McDaniel, Regie Cabico and many others. [Full disclosure: the editor of Radiuslit.org, of which I do occasional writings, is featured many times over in this incredible text. But that's not why I included it in my best books; it's a best book. Period.]
A favorite quote: "We are all more the same than we are different. Yet, simultaneously, there is a deep and important difference between people -- that of individual identity. Each person is unique. Each person is an individual spirit, and is therefore important."
What to eat: Alpha-bits cereal and beer.
Every time I run into a reader I ask them if they read John Irving's latest book,
In One Person
(Simon & Schuster, New York, 2012). What I loved about this text besides Billy Abbott, Miss Frost, and Billy's best friend, Elaine (let's face it-- there are many memorable characters) is the way Irving navigates the reader through questions of sexual identity in the 1950's to the startling, heartbreaking tragedies of all those that passed during the AIDS epidemic in the 1980's and early 90's; the story of Tom Atkins is unforgettable. Beautiful, sad, funny, truthful, satiric, and at times, quirky.
In One Person
stayed with me many months later.
A favorite quote: "I'd managed to meet Miss Frost only because
Richard recognized the absurdity of a small-town thirteen-year-old boy not having a library card."
What to eat: More like what to drink. Whatever you do, leave the beer cans under the old chair.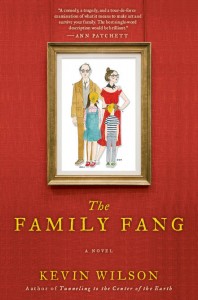 I love art. And I love the characters in Kevin Wilson's The Family Fang. And there really is nothing I can say without allowing the book to speak for itself. It's incredibly fun, sad, and borders absurdity. The text alternates between performance art (a christmas carol, 1977 is one of my favorites) and the current realities of the Fangs' lives, particularly Annie and Buster (Child A and Child B, respectively) who eventually go in search of their missing parents. If you like Wes Anderson films, you'll love Wilson's text.
A favorite quote:
A & B,
We have art to make in North Carolina. We'll be back in a few days. Don't go into our room.
Love,
Caleb & Camille
What to eat: "Free goddamn chicken sandwiches."